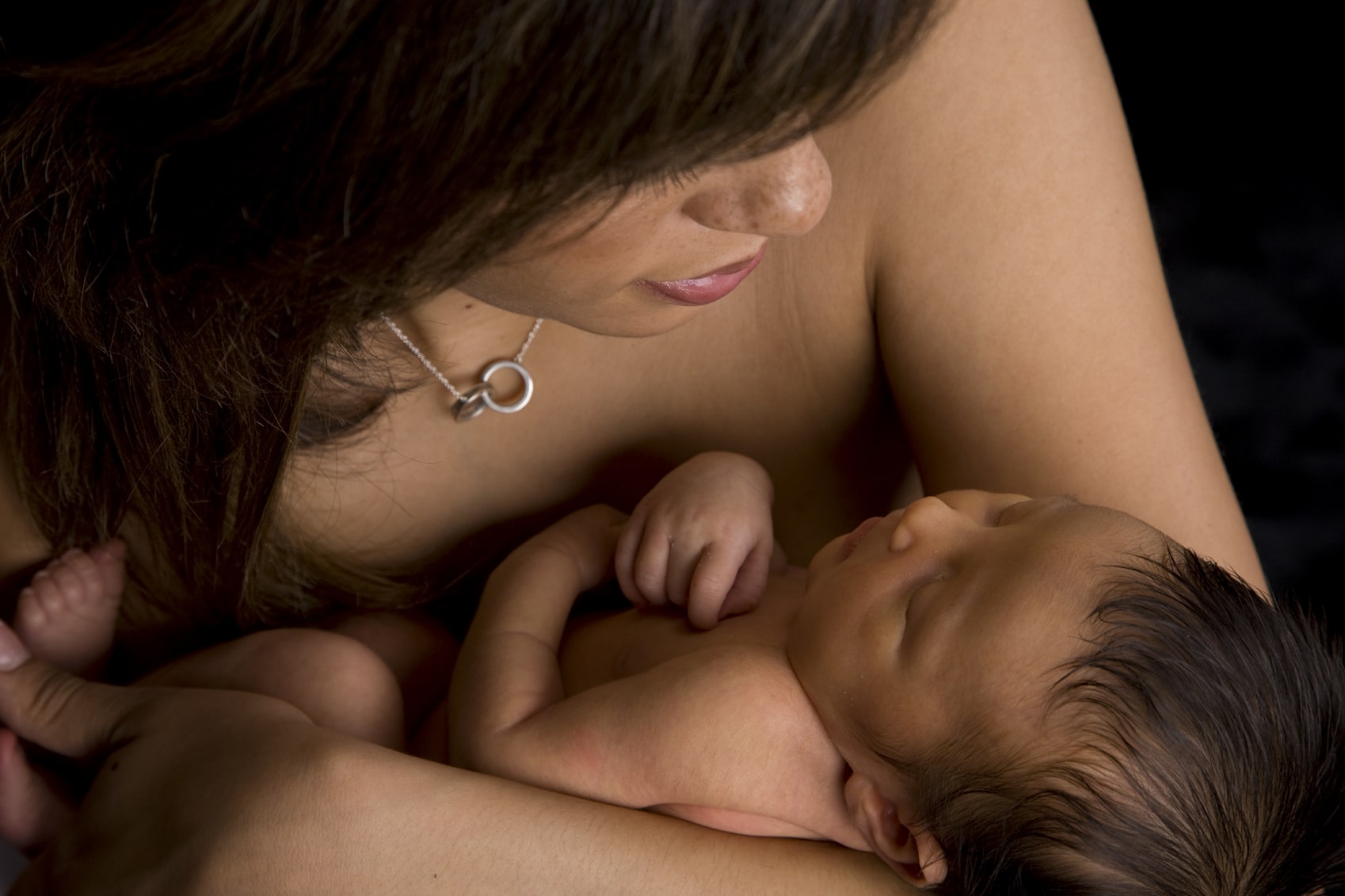 This combined course will enable you to teach a range of newborn nurturing techniques to parents before and after birth as well as our full baby massage instructor course so you can teach nurturing touch and massage from birth onwards.
Newborn Nurture
This is a fully comprehensive course which covers all aspects of becoming a professional teacher and teaching baby massage plus specific techniques for babies under 8 weeks.
Specific areas explored are; Rocking and holding Swaddling and tucking. Kangeroo Care Kangeroo Mother Care Containment holds Still Touch Early Massage Baby Reflexology Gentle Movements Fourth Trimester Support
It will enable you to offer positive touch education to parents pre birth and before baby massage classes begin at 8 weeks. It will also deepen you knowledge of the science of touch and skin to skin and why it's so important. Included in the course is a course manual covering the following modules;
INTRODUCTION, ETHICS AND PROFESSIONALISM
HISTORY AND BENEFITS OF BABY MASSAGE AND THEORIES OF ATTACHMENT
ANATOMY AND PHYSIOLOGY OF THE INFANT
LEARNING THE NEWBORN NURTURE TECHNIQUES
HOW TO TEACH AND TEACHING PLANS
MARKETING AND BUSINESS ONLINE
ACCESS TO HOURS OF REAL TEACHING EXAMPLES, MINI LECTURES AND REAL CLASS FOOTAGE ESSENTIAL TO COMPLEMENT YOUR STUDY AND KNOWLEDGE.
Baby Massage Instructor
This course will enable you to teach baby massage to groups of parents and on a one to one basis from 8 weeks. It is a fully comprehensive course which covers all aspects of becoming a professional teacher and teaching baby massage. Included in the course is a course manual covering the following modules;
INTRODUCTION, ETHICS AND PROFESSIONALISM
HISTORY AND BENEFITS OF BABY MASSAGE AND THEORIES OF ATTACHMENT
ANATOMY AND PHYSIOLOGY OF THE INFANT
LEARNING THE BABY MASSAGE ROUTINE
HOW TO TEACH AND FACILITATE GROUPS
MARKETING AND BUSINESS
All course materials also include recordings of mini lectures on subjects covered on the course. We also include footage of real classes as well as films of the whole massage routine. We also provide teaching plans for;
Weekly classes
Pop up sessions
Workshops
One to One sessions
Specialist Daddy & Baby sessions and Happy Tummy Workshops for colicky babies.
Why we give 10% from all baby massage enrolments to charity 
The Demand For Teachers-Just Some Of The Reasons Why Training NOW is such a great opportunity.
1.Unicef estimates there are 353,000 babies are born each day around the world. That's alot of babies needing nurturing touch and love and alot of parents and babies to teach. 128,845,000 a year!
2. A recent study by the National Childbirth Trust suggests half of new mothers suffer mental health problems during pregnancy or within the first year of their child's birth. Education through Blossom & Berry courses during pregnancy on self care, the importance of bonding and practising skin to skin has the potential to support new mothers.
3. The number of children having therapy for anxiety has risen by 60 per cent in two years figures in 2017 from the NSPCC show. Babies and children need loving support to thrive and how they interact with their primary caregivers in the first 3 years of life can, simply put, wire their brains for love or stress. Problems with emotional regulation in early childhood can cause stress and anxiety later in life. Infant massage and yoga teaches responsive care and love from the beginning.
4. Blossom & Berry are regularly contacted for teacher recommendations by parents from all over the world. We need more teachers to help support parents and babies.
5. There are waiting lists for baby massage and yoga in many areas and parents and babies are missing out on this vital education due to the lack of availablity of classes.
Blossom & Berry Bonuses
You can understand the importance of loving touch, connection and early attachment and bonding in the creation of happy relationships through science and evidence based studies. You receive comprehensive teaching manuals and lifetime access to resources.
We have flexible teaching plans so you can teach courses, workshops, one to ones, pop up sessions and specialist sessions. All free of charge to help you expand your opportunities to teach.
Learn useful techniques to help calm and relax babies and children to share with parents and help empower them.
You can learn with us anywhere in the world, in the way that is most flexible and convenient for your lifestyle. Everything is at your pace and you have lifetime access to the course.
You can create your dream job working in a fulfilling and nurturing environment running your own natural pregnancy, baby massage and baby yoga practice which can be extended to older children.
You can develop a teaching practice with our courses which all link together to enable you to develop a thriving network of courses and keep connections with your clients.
We are accredited internationally by the Royal College of Midwives, Federation of Holistic Therapists, International, Complementary Therapists Association & IICT.
Our high quality training is completely flexible. You can learn online, one to one, via Skype, in a small group or in house. However you learn, there is no compromise on quality.
You can access our fully interactive materials including over fifty online videos to help you learn.
You are free to be your own kind of beautiful and have ultimate freedom in your business. We are not a franchise by choice. We offer high quality training to give you what you need plus all you would expect with a franchise without the cost or the limitations.
Even More Love With These Extra Bonuses
You will receive ongoing lifetime access to our online support in our Facebook group The Nurture Collective, have a Blossom Buddy with another student to help you keep accountability and attend our annual Nurture Day to meet other students and experience new learning and guest speakers.
Complimentary Love Creates Love course training based on our Manifesto to help you set up your own local nurture group for parents and babies.
Free social media resources and handouts for your classes from Blossom & Berry.
We believe in self development alongside training so we have input from coaches, meditation teachers and other experts to help you grow personally as well as growing your business.
FREE Support Package Worth Over £1000 With Every Course Purchased
You will get world class, expert training plus all your business foundations to get you started PLUS our team in our Nurture Collective to support you in your journey and celebrate with you.
Support your clients with our FREE baby massage course for parents online
We are passionate about the benefits of touch and connection for parents and babies and want to give parents lifetime access to the materials and learning they need to be able to keep practising baby massage with their child. We have created a free online baby massage course which you can share free of charge with all your parents to help support their learning from your classes. It can be gifted at the end of the course along with their certificate. This course is designed to support your classes, teaching practice and clients by providing online tuition. No other training provider does this and it makes your classes unique. It's a way to support your clients even more and provide extra value. It also makes an impact on the world by helping to promote the benefits of baby massage, touch and connection and keeping parents and children connected through regular practice at home.
Entry requirements A basic knowledge of human biology (GCSE/O level preferred but not essential. An interest in supporting and working with parents and babies. An understanding of the benefits of massage. A good command of the language in which you will be teaching and excellent communication skills. A positive and motivated attitude to study and business.
Accreditation All courses are accredited by Blossom & Berry. Training is of a very high standard. Gayle Berry has written and designed all course materials and has a PGCE in Teaching and Delivering Learning to the adult education sector.Gayle has ten years experience as a teacher and is also the author of a successful book "Baby Massage-Expert know-how at your fingertips". She has worked on numerous media projects in the field.
Timescales for study Most students complete the diploma within four months and can begin professional practice.
Costs £999-ONLINE inclusive of all training and ongoing support. There are no licence fees to pay.
Prefer to pay in instalments? Get started today with a £249 deposit and 12 easy monthly instalments. Find out more here
Study and Practice Development After achieving this qualification you can continue to study with us and develop your practice by accessing the courses below;
Blossom & Berry Baby Confidence Instructor
Blossom & Berry Baby Yoga Instructor
Blossom & Berry Learn, Stretch & Play Instructor
Blossom & Berry Story Stretch Instructor
Blossom & Berry Massage for Older Children Instructor
Soothe Settle & Sleep Program
Section 1
Welcome & Getting Started On Professionlism
Lecture 2
Reading List & Study Guide
Lecture 3
Full Powerpoint course presentation
Lecture 4
Extra Bonus Course on Mindset, Marketing and Leaving the 9-5
Section 2
Module 2-Anatomy & Physiology
Section 3
Module 3-Benefits of Baby Massage
Lecture 6
Benefits of Infant Massage
Lecture 7
Additional resources on benefits-Videos
Lecture 8
Love Creates Love
Lecture 9
Baby Massage Presentation Deck
Lecture 10
Infant Mental Health Education
Lecture 11
Research on baby massage, touch and brain development
Section 4
Module 4-Baby Massage Practicalities & Routine
Lecture 12
Videos to support your practice
Lecture 15
Oils and Safe Practice (Current Guidelines)
Section 5
Module 5-Successful Teaching Techniques
Lecture 18
Real teaching examples of classes
Lecture 19
Teaching babies with special needs
Section 6
Module 6-Marketing & Setting Up Your Business
Lecture 23
Vision & Mindset
Lecture 24
Taking Action & Planning
Lecture 25
Four P's of Marketing
Lecture 27
Starting Up Lean
Lecture 28
Support & Mentorships
Lecture 30
How Giving Back Is The Greatest Joy
Section 7
Module 7-Teaching Practice
Lecture 32
Teaching Practice Documents
Lecture 33
Workshop Templates
Lecture 34
Certificate for baby massage
Lecture 35
Celebrating You!
Section 9
Anatomy & Physiology Of The Newborn
Lecture 36
A & P and supporting videos
Lecture 37
Videos on early brain development
Section 10
Touch and Massage for babies under 8 weeks
Lecture 38
Newborn nurture techniques
Lecture 39
Holds, Swaddling, Still Touch
Lecture 41
Massage routine 0-4 weeks
Lecture 42
Massage routine 4-8 weeks
Lecture 43
Yoga inspired movements 0-8 weeks
Lecture 44
Importance of attachment for infants
Lecture 45
Gentle stretches for the post natal period for relaxation
Lecture 46
Breathing techniques for fourth trimester
Section 11
Teaching techniques
Lecture 47
Teaching Structure & Teaching Plans
Lecture 48
Presentation skills
Section 12
Certificate and completion
Section 14
Free Baby Massage Online Course For Your Clients