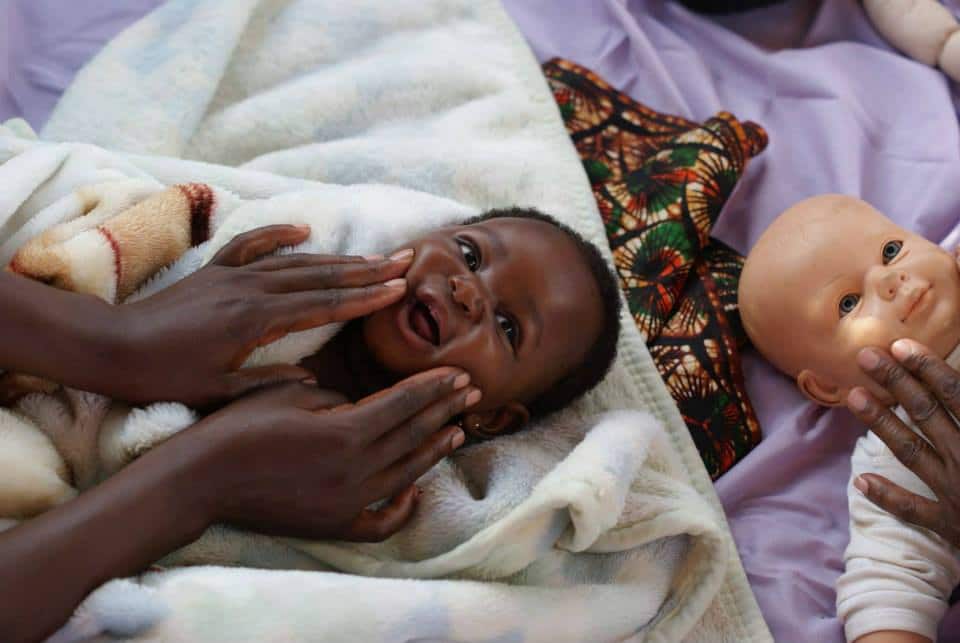 This course is designed for any qualified baby massage instructor who has trained with another training provider who would now like to teach using Blossom & Berry. The course gives you access to all our course materials and resources online.
"Thank you so much for teaching me. I love your passion and energy for supporting parents and babies and your course materials cover everything in so much depth. I feel inspired and enthusiastic about setting up my own business and I love the ethos of Blossom & Berry"-HG
This course will enable you to teach baby massage to groups of parents and on a one to one basis. It is a fully comprehensive course which covers all aspects of becoming a professional teacher and teaching baby massage.
Included in the course is a course manual covering the following modules;
INTRODUCTION, ETHICS AND PROFESSIONALISM
HISTORY AND BENEFITS OF BABY MASSAGE AND THEORIES OF ATTACHMENT
ANATOMY AND PHYSIOLOGY OF THE INFANT
LEARNING THE BABY MASSAGE ROUTINE
HOW TO TEACH AND FACILITATE GROUPS
MARKETING AND BUSINESS
ONLINE ACCESS TO HOURS OF REAL TEACHING EXAMPLES, MINI LECTURES AND REAL CLASS FOOTAGE ESSENTIAL TO COMPLEMENT YOUR STUDY AND KNOWLEDGE.
All course materials also include recordings of mini lectures on subjects covered on the course. We also include footage of real classes as well as films of the whole massage routine.
Entry requirements
A basic knowledge of human biology (GCSE/O level preferred but not essential.
An interest in supporting and working with parents and babies.
An understanding of the benefits of massage.
A good command of the language in which you will be teaching and excellent communication skills.
A positive and motivated attitude to study and business.
Accreditation
We are accredited by the Federation of Holistic Therapists for all our in person and group training on baby massage and baby yoga and all our courses are recognised by Westminster Indemnity Insurance. All online courses are accredited by Blossom & Berry. Training is of a very high standard. Gayle Berry has written and designed all course materials and has a PGCE in Teaching and Delivering Learning to the adult education sector.Gayle has ten years experience as a teacher and is also the author of a successful book "Baby Massage-Expert know-how at your fingertips". She has worked on numerous media projects in the field.
Timescales for study
Most students complete the diploma within four months and can begin professional practice.
Costs
From £399 inclusive of all training and ongoing support.
Study and Practice Development
After achieving this qualification you can continue to study with us and develop your practice by accessing the courses below;
Blossom & Berry Baby Confidence Instructor
Blossom & Berry Baby Yoga Instructor
Blossom & Berry Learn, Stretch & Play Instructor
Blossom & Berry Story Stretch Instructor
Blossom & Berry Massage for Older Children Instructor
Soothe Settle & Sleep Program
Section 1
Welcome & Getting Started On Professionlism
Lecture 2
Reading List & Study Guide
Lecture 4
Full Powerpoint course presentation
Section 2
Module 2-Anatomy & Physiology
Section 3
Module 3-Benefits of Baby Massage
Lecture 6
Benefits of Infant Massage
Lecture 7
Additional resources on benefits-Videos
Lecture 8
Love Creates Love
Section 4
Module 4-Baby Massage Practicalities & Routine
Lecture 9
Videos to support your practice
Lecture 12
Oils and Safe Practice (Current Guidelines)
Section 5
Module 5-Successful Teaching Techniques
Lecture 14
Real teaching examples of classes
Lecture 15
Teaching babies with special needs
Section 6
Module 6-Marketing & Setting Up Your Business
Lecture 17
Extra resources to kick start your practice
Section 7
Module 7-Teaching Practice
Lecture 18
Teaching Practice Documents
Lecture 19
Workshop Templates