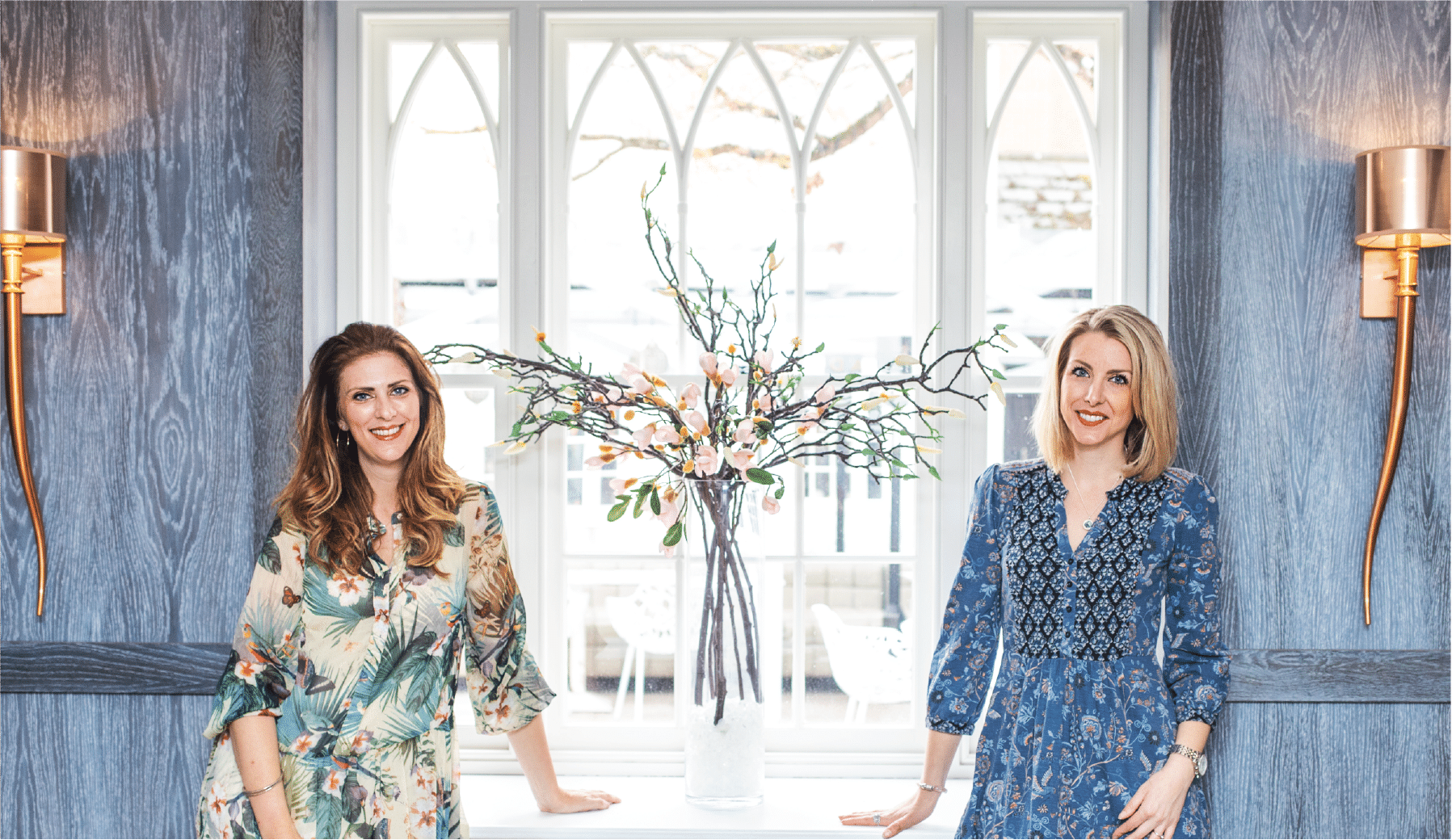 Let me introduce us!
Blossom & Berry grow babies with love, nurturing touch and positive interaction.
I created Blossom & Berry in 2001 after the birth of my daughter, Emily. Emily completely changed my life. I loved being a mum more than anything in the world and I wanted to create a business that enabled me to spend my time with her (and my two boys born within 3 years) and to support other parents. If you want to find out a bit more about me, click here.
Blossom & Berry promotes and teaches the importance of positive touch, communication and love through massage and yoga for the healthy development of babies and children based on scientific evidence and cultural practices from around the world. We now offer a wide range of high quality and high value courses designed to teach students to teach massage and yoga and set up a successful practice with low risk, low cost and full support.
My mission is to impact over 100,000 babies through my network of teachers across the world and to reach the most vulnerable babies with my Nurture Foundation. I am very grateful for the amazing global team I have to help this happen. We have branches across the world focusing on Mexico, Australia, Dubai and Europe. We can also set up trainings in any other country in the world.
"Helping every child survive, thrive and come alive"-Gayle Berry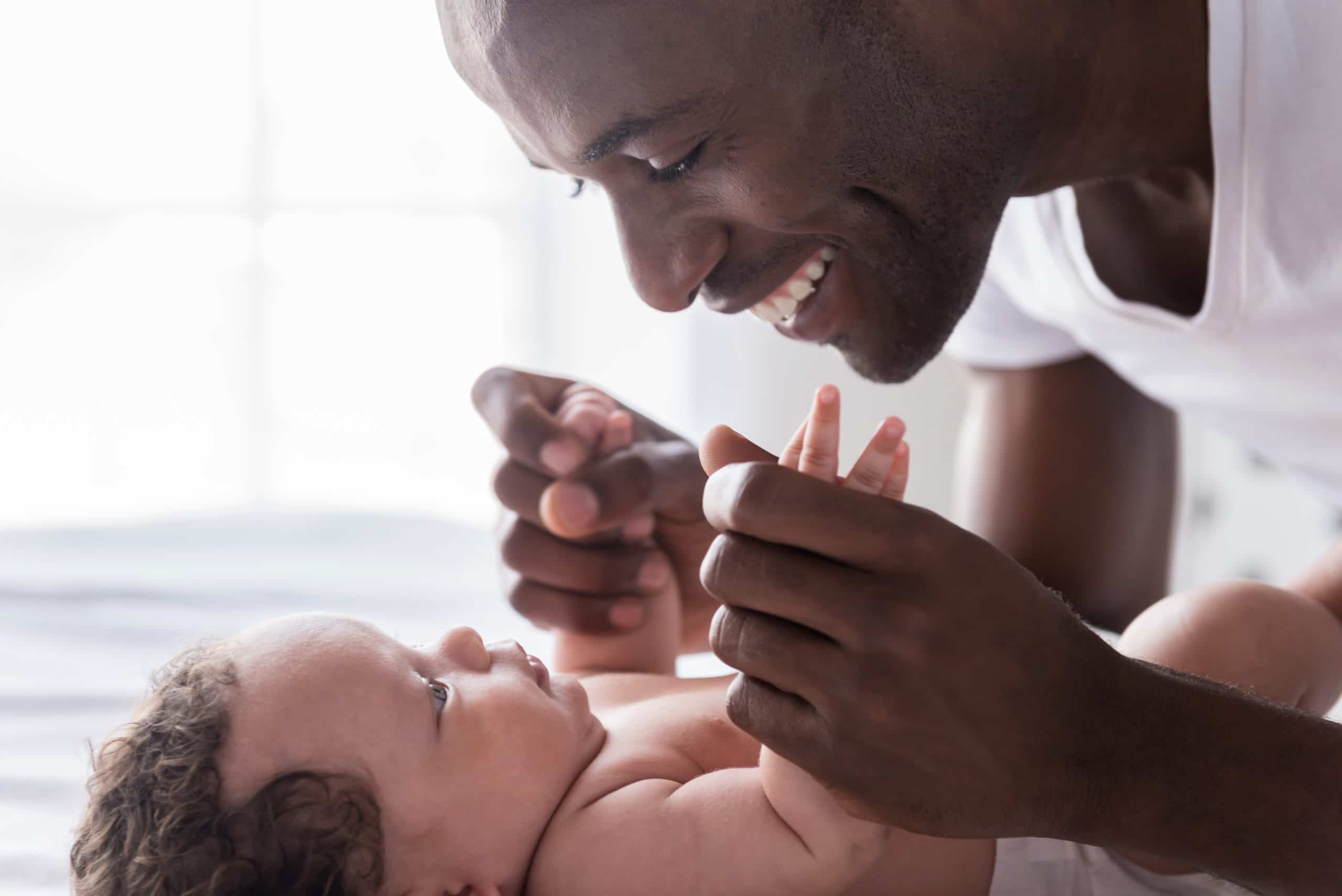 is to create loving and connected relationships between parents and babies across the world. We are the most comprehensive baby massage and yoga teacher training provider in the world with a global family of teachers and lifetime access to our fully accredited courses.
I lead a team of seven at Blossom & Berry. I am very grateful for the amazing global team I have activate our mission. We have branches across the world focusing on Mexico, Australia, Dubai and Europe.
We can also set up trainings in any other country in the world. We are here to teach love across the world.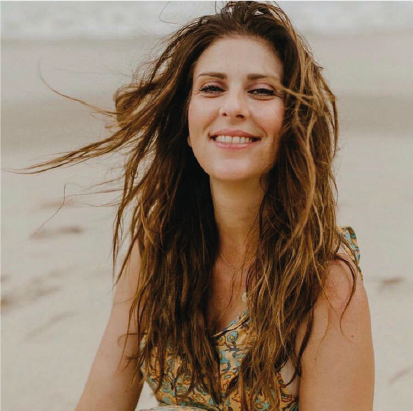 Gayle
Gayle Berry is the founder and leader of Blossom & Berry Baby Massage & Yoga.
Gayle started her career as a project finance lawyer in the city of London. She reinvented herself as an entrepreneur after her three children were born.
She has grown Blossom & Berry from a small local business to be a global leader in the field of mother and baby wellness with over 1000 baby massage and yoga teachers across the world generating a six figure turnover. She has launched a sister site in Spanish and has training across the world in locations including Mexico, Dubai, Australia and Italy. Gayle leads a team of seven with love.
Gayle is a transformational leader and business mentor to thousands of women who have created their own business. She had numerous clients nominated as finalists in a national business awards. Gayle mentors clients across the world and takes the stage regularly to share her story of compassionate leadership, sustainable entrepreneurship and her love legacy.
Gayle is a co-founder of the charity Love Support Unite and its former UK director andset up her own mother and baby health initiative charitable project in Malawi which provides mother and baby education and sustainable feeding programs for over 750 mothers and babies a year.
Carly
Carly Budd is Blossom & Berry's Paediatric Occupational Therapist and Expert Baby Massage & Baby Yoga Teacher.
She is a mother of two and has over 12 years experience of working with parents and children. Carly's specialism is in child development and play, and includes many years working with infants and children with special needs. As well as being part of the Blossom & Berry team, Carly is the founder of Bud and Bloom Baby offering specialist workshops and bespoke one to ones.
Carly's mission is to support parents to nurture, connect and play with their little ones, not only to promote their physical development but also their ongoing emotional, mental and social wellbeing. As an Occupational Therapist Carly honours the holistic nature of adults and children, and believes strongly in our innate need to experience loving connection with others in order to thrive in all areas of our lives.
Through her message, Carly aspires to empower as many mothers as possible to connect to and nurture their own needs as well as connect with other mothers, forming Mum Tribes who hold each other during the motherhood journey. She believes strongly that a society of more connected mothers and more connected babies will bring about a more loving and connected future for us all.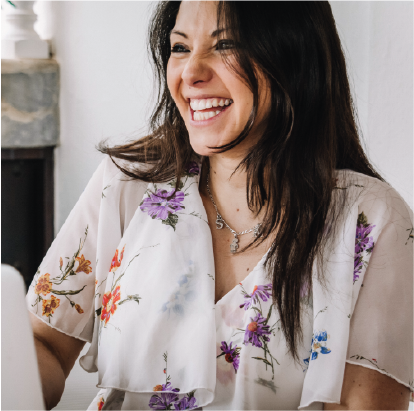 Sandy
Sandy leads our Spanish Blossom & Berry branch.
Originally from Mexico City, she has lived in London for over a decade, where she did a Masters in Education and International Development and worked as a Family Support Worker for 5 years in various children's centres.
Meeting Gayle back in 2011 was transformational for her. Fascinated by the science and deep impact behind baby massage, she continued developing in the field and founded kin2Skin baby massage and yoga.
From fun meetups, a trip to Mexico and several retreats, Gayle and Sandy have shared so many adventures and learning. They have seen Blossom & Berry truly blossom into a global business. As a mum of two, Sandy is determined to keep nurturing her own family whilst spreading our message and mission to teach love far and wide. Sandy believes that all babies deserve to feel love to be able to thrive and she is honoured to be part of this team.
You are welcome to visit our Spanish website: www.blossomandberry.lat
Amy
Amy launched Blossom & Berry in Australia in 2019.
She has been teaching baby massage for 6 years and has taught hundreds of parents how to massage their babies. Amy's eldest daughter suffered from severe colic and there were no baby massage instructors in the area so on a whim out of complete desperation Amy enrolled to become and baby massage instructor and is so incredibly grateful that it has taken her to where she is today - apart of the Blossom & Berry team!! Baby massage & yoga is still very much in its infancy in Australia, Amy is incredibly passionate about, and is on a mission to, elevate the baby massage and yoga industry in Australia; creating education and awareness on teaching love through gentle and nurturing touch and the importance connection within the family unit. She has seen first hand just how powerful and special massage time is and what's to share that with parents all over the world #makingmemoriesthroughmassage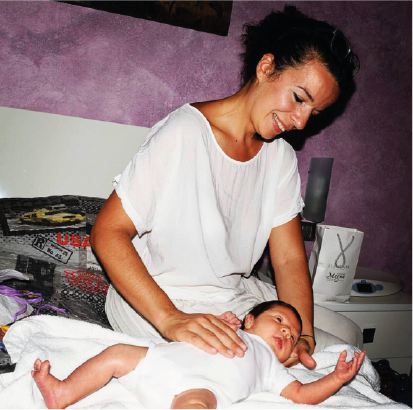 Cristina
Cristina is a Mother, Osteopath and Naturopath.
Her first pregnancy and the birth of her daughter offered her the "living" proof that life, already inside the uterus, forms beings and that birth itself is the most important experience of a human being.
She loves teaching Blossom & Berry Infant Massage in Italy because it offers the possibility of transforming a mother's natural gestures towards her child into a beautiful flow that can be practised to create love.
You are welcome to visit our Italian website: http://blossomandberry.it/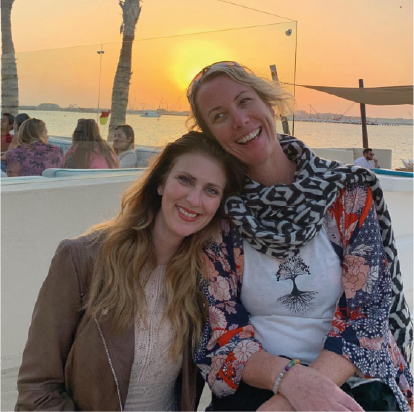 Mel
Mel Craven is Blossom & Berry's Middle East Baby Massage and Yoga Consultant, an Empowered Gentle Birth Doula, and a Prenatal Yoga Teacher
As an experienced Australian Social Worker, Mel has been living and working abroad as an expat in the United Arab Emirates for the past 11 years with her husband and three sons.
Her greatest joy and passion is to empower women to follow their dreams and create more loving relationships of connection between parents and children, families and communities. Love is always the answer.
Students from across the world.
We are a truly global training provider and we are continuing in our mission to spread love across the world with our work. You can train online with us anywhere in the world or attend one of our in person trainings.
We give back every month to our charitable projects in Malawi which we have set up to empower the most vulnerable parents and babies in poverty. You can find out more about The Nurture Foundation here
We are able to travel to teach anywhere in the world (pretty much!) so let us know if you would like us to come and provide training for you.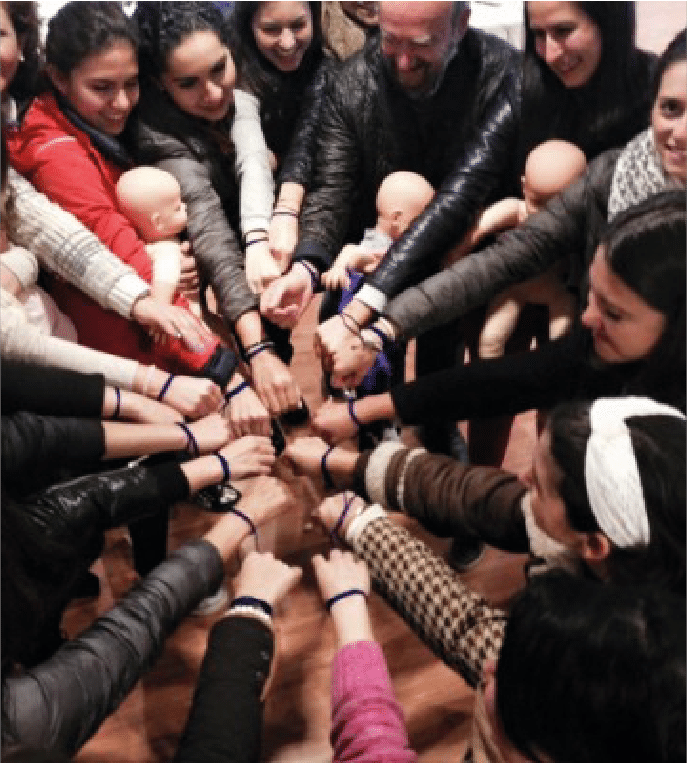 Spanish Speaking Training
We have a network of teachers in Mexico and in other parts of the Spanish speaking world. We have both online training and in person training which is led by Sandy.
We have visited Mexico on a number of occasions to train students in Mexico City. We also now have our baby massage teacher training course online in Spanish so you can learn wherever you are in the world.
We work with a number of charites in Mexico to increase the social impact of our work.
We had our first training in Australia in 2018.
We now offer a full range of courses and training dates for our baby massage and yoga teacher training. Blossom & Berry Australia is headed up by Amy Booker. Stay tuned for more details or drop us an email to join the waiting list for courses.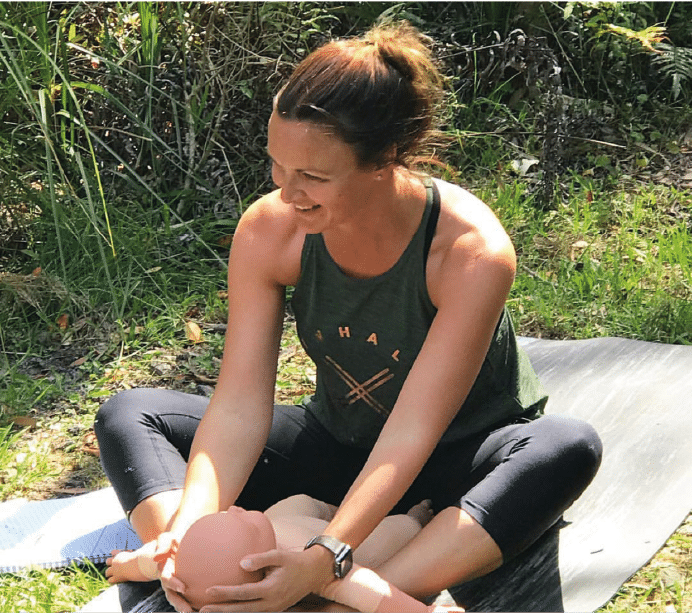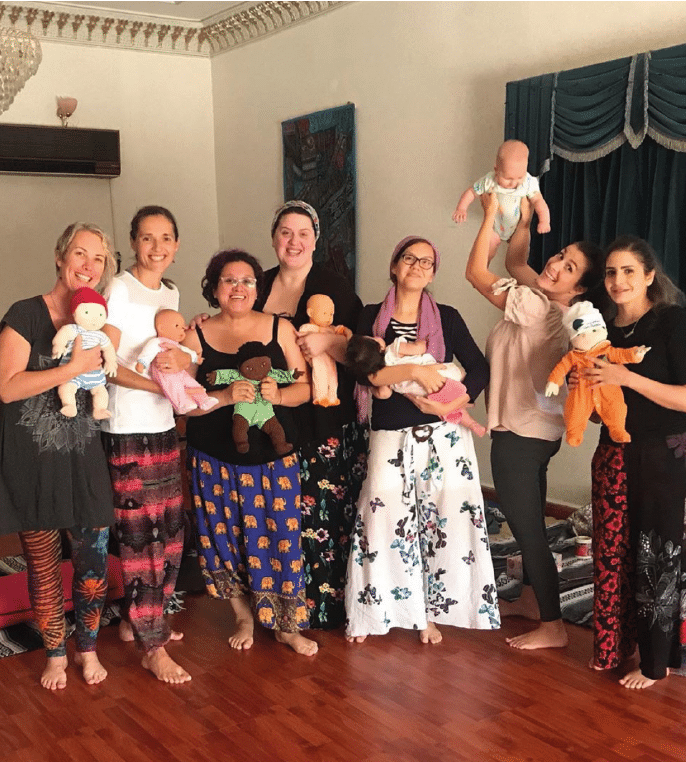 We have been doing our baby massage teacher training in Dubai for the last five years
It's been brilliant to watch our community building up and growing. Blossom & Berry Dubai is headed up by Mel Craven who is an experienced baby massage and yoga teacher, yoga teacher, doula and post natal expert. We have two training sessions in Dubai every year. We also hold trainings throughout the middle east. Please email us for details.
Our branch in Italy is headed up by Cristina La Villa, an osteopath and baby massage instructor.
We have trainings in Southern Italy a few times a year but we can travel to other areas of Italy too. Get in touch if you would like to train with us.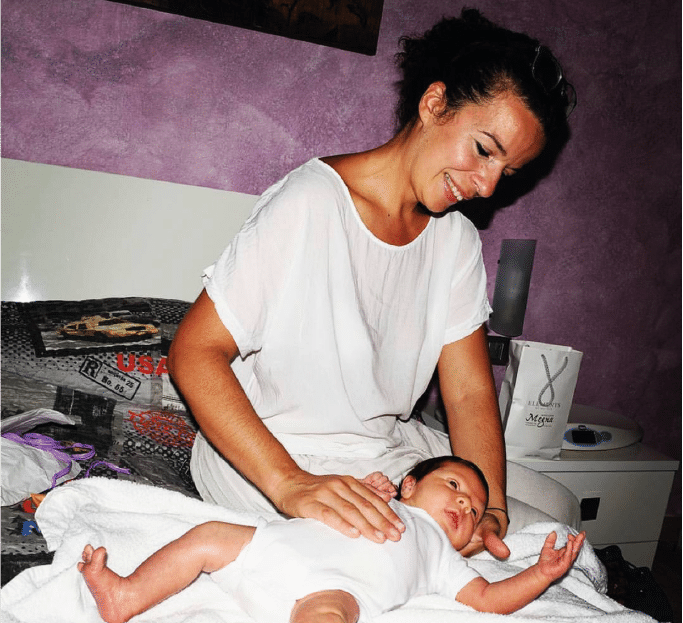 nhs training & Group Training
I have been working with and training NHS staff, health professionals and Children's Centre Staff for many years.
We have worked with a wide range of students from private practice to charities.
I can also provide teacher training in house to any organisations looking to offer classes as part of their services. I have worked with holiday chains and other hospitality centres to create bespoke programs.
is fully comprehensive and covers everything you need.
We take a three stage approach to our training to ensure your success;
We also always add a very large sprinkling of love into all our courses and can create resources to meet your needs.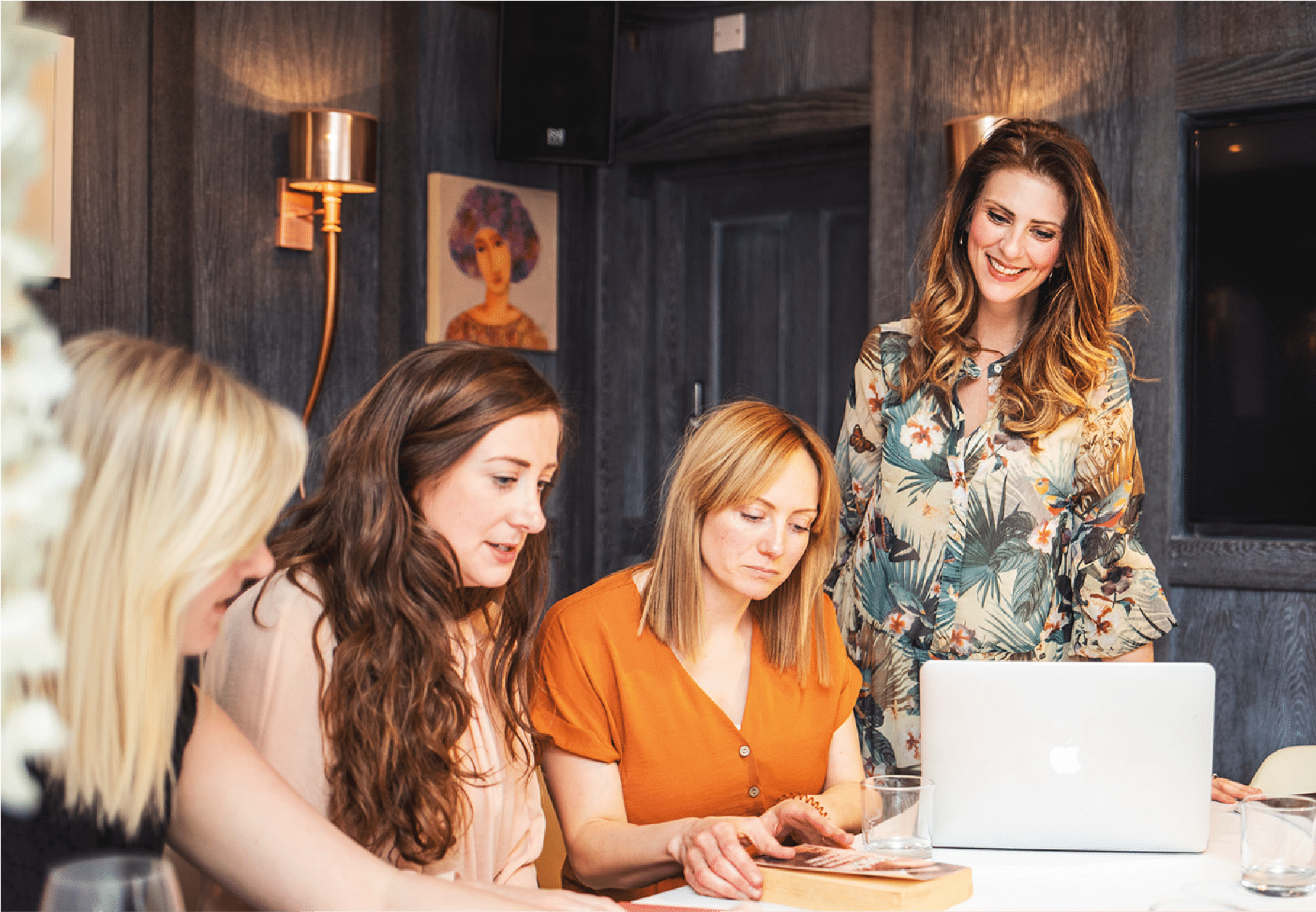 needed to become a teacher
Blossom & Berry will train and support you if you would like to become a baby massage or baby yoga instructor.
You should be someone who enjoys working with parents and children and has natural enthusiasm for teaching. You should be a warm and friendly person who can offer support to others. You must be aware of the benefits of running your own business and be motivated to achieve your full potential. It ideally suits someone looking for a part time opportunity wanting flexibility and control over their working hours.
You must have an interest in working with young families and have a basic understanding of human anatomy and physiology (such as GCSE biology or an equivalent). We believe in investing in a positive future through nurturing our children with loving touch & communication, encouraging happy secure relationships and by demonstrating kindness and generosity to others. We look for individuals who share this goal.We believe in investing in people for the future, creating opportunities for happiness and in nurturing yourself and others. Classes & training are not just about certificates, rather about experiences, memories & relationships.