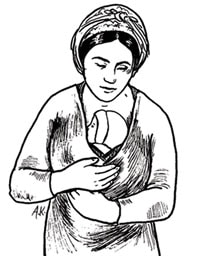 Designed to nurture: The incredible power of a new mother's body.
As part of World Prematurity Day we are looking at ways that skin to skin can help to support premature babies and newborns after birth. Much is written on Kangaroo Care but this article focuses on an adaption of that practice known as Kangaroo Mother Care (KMC), which I believe is the most gentle way to welcome a baby into the world and enable a new mother to embrace her new role. I have summarised some of the many points from the website www.kangaroomothercare.com which is an incredible resource and showcases much of the work of Dr Nils Bergman, a renown specialist in this area.
I have also learnt about the practice of KMC with new mothers in poverty living in Malawi from my working with new mothers and babies in the community. If a baby is born prematurely and there are limited medical resources, a mother's body can literally save the life of her baby. A new mother's body is designed to nurture her baby and help him thrive. It's truly nature's way to support new life and help a mother & baby connect and bond for health and wellbeing.
What is it?
Kangaroo Mother Care (KMC)  is
"the early, prolonged, and continuous skin-to- skin contact between the mother (or substitute) and her low birth weight infant, both in hospital and after early discharge, until at least the 40th week of postnatal gestation age, with ideally exclusive breastfeeding and proper follow-up" (Cattaneo, Davanzo, Uxa 1998).
The early discharge relates more specifically to babies with medical problems or premature babies.
It's origins
It was first presented by Dr Rey in Bogotá, Colombia in 1978 and later developed by Dr. Hector Martinez and Dr. Luis Navarrete as an alternative to inadequate and insufficient incubator care for those preterm newborn infants who had overcome initial problems and required only to feed and grow.
Almost two decades of implementation and research have made it clear that KMC is more than an alternative to incubator care. It has been shown to be effective for thermal control, breastfeeding and bonding in all newborn infants, irrespective of setting, weight, gestational age, and clinical conditions.
The difference between Kangaroo Care and Kangaroo Mother Care.
Skin to Skin is the actual intervention used as in Kangaroo Care whereas Kangaroo Mother Care compromises of a general approach in which skin to skin contact is a key component
"Kangaroo Care" (KC) means doing skin-to-skin contact between baby and mother (or father), anything from 10 minutes to an hour or more a day. KC requires that the baby is "stable", and so may be already a week old or more. The usual technical definition is "intra- hospital maternal-infant skin-to-skin contact…..KMC makes mother more central to the team which is good and promotes breastfeeding which can of itself be life-saving for prems" Nils Bergham
Nils Bergman states that skin to skin contact should start from birth.
 "In mammalian research, separation tolerance is measured in minutes!! The underlying neuroscience is that the baby is stressed for most of the time as she is separated from Mum, and this stress keeps the baby unstable. Holding your baby in skin-to-skin for over an hour is needed to make a full sleep cycle, which wires brain circuits. It also decreases the load of stress which protects from long term "wear and tear" effects on baby organs and metabolism. The neurobiology also changes, the constant sense of safety makes for better emotional and social development"