Forest bathing, grounding and nature-based living is such a huge part of my life, so when Blossom and Berry released Tree Babies, I just knew that I NEEDED to be a part of it! Everything about Tree Babies is so aligned with who I am and with the ethos of my business, Little Pips.
I started teaching antenatal and baby classes after suffering from postnatal depression following the birth of my second baby. I had felt isolated and lost, too scared to go out but too claustrophobic to stay in. My only respite was a daily walk with him in his baby sling, always keeping him close and upright due to reflux. He was a fussy baby, and the thought of attending any sort of indoor baby class filled me with dread. So, we spent our time walking so that my eldest could get some fresh air, and I could escape. Being outdoors made me feel free, calmer, and more able to deal with each day.
One set of twins later, and we have become a family who can always be found outdoors! Whether at the park, the forest, sleeping under the stars or camping in our bell tent, we live for nature and the magic of the night skies.
This is why I feel SO passionate about Tree Babies! I feel the benefits of nature in my life every single day, and it has played such a huge part in my own healing.  The course itself took me on an even deeper journey into my own daily practices too – with 4 children and 2 stepchildren, most of the time we are outdoors together. But this course encouraged me to start enjoying some time alone. I discovered how refreshing it was to walk without purpose, just for me. I have become more playful in nature, stopping to take in a beautiful flower or hugging a tree that I feel drawn to… things I would previously do with my children, but never alone! 
The Tree Babies course is so much more than simply learning how to run a class and is so different from anything I have done before. It felt like a gorgeous, indulgent, healing journey, and being able to now share that experience with parents and babies is something very special. There is so much freedom to be creative and tailor the sessions to whatever you want them to be. For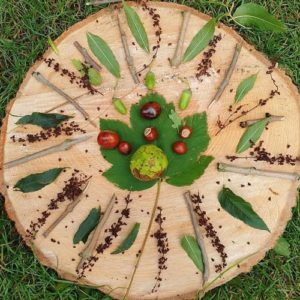 example, I embrace lunar living, and have brought this into my plans with full and new moon intention setting and rituals, and being mindful of increased vulnerability at certain times of each moon phase. We celebrate the season changes and create nature mandalas… I have even engaged toddlers in this for a group of mums with older little ones, which was just beautiful! This has flowed into existing classes too, and I have become largely nature-based with 50% of my sessions now being held outdoors – something so appealing to my community right now!
The freedom to flow and hold space in your own way is wonderful, and those who attend Tree Babies are reassured that they can dip in and out of whatever feels aligned to them. Being outdoors means that parents feel like they are less observed, and in my experience, babies are much more content outdoors! This is a class of very little 'doing', which is again so appealing to anxious parents… each session is a chance to hold space, breathe together, move together, relax together, feel free, and connect. All in their own time, and their own way.
I have two beautiful venues… one, at Castle Country Park, offering us areas of woodland, flowers, wildlife, winding paths and a pretty pond. This special place produces the most beautiful of nature mandalas with all of its treasures on offer! My second venue is deep in the forest away from everything apart from a small tearoom, offering full forest emersion. Both different, both special. 
The beauty of Tree Babies is that there are no expectations on the parent or the baby and this is something that makes it so magical. Each session offers a chance to heal, to connect, to reflect,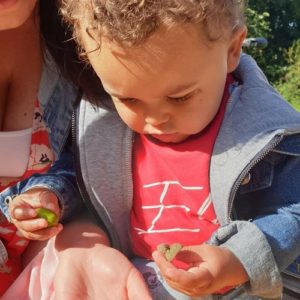 and to unwind. To simply be.
I can't express just how special this course is, and how happy I am to be a Tree Babies Guide.  I would wholeheartedly recommend Tree  Babies to anyone. Not only for parents to attend, or teachers to teach – but for your own personal wellbeing journey too. Because right now, we need nature more than ever before ♡
Guest blog by Claire Duddridge of Little Pips – you can follow her on Facebook here and Instagram here
If you would like to train with us click here.

---
Tree Babies-Our essential resources list for teaching parents and babies in nature
I thought I would share some of my favourite resources from our Tree Babies Guide course to inspire you.
Reading list
Our Tree Babies course covers everything you need to know but I always suggest cultivating a daily practice of learning.
You can order some of these books for deeper reading from Red Lion Books to support an amazing family-run independent bookshop. Send an email copying this list or any of the titles and Jo at Red Lion will send them out to you, [email protected]
Connection
Continuum Concept-Jean Liedoff
Vital Touch-Sharon Heller
Mindfulness
Peace Is Every Step: The Path of Mindfulness in Everyday Life by Thich Nhat Hanh
The Headspace Guide to Meditation and Mindfulness: How Mindfulness Can Change Your Life in
Ten Minutes a Day by Andy Puddicombe
Four Agreements-Don Miguel Ruiz
Untethered Soul-Michael Alan Singer
The New Earth-Eckart Tolle
Forest bathing and nature practice
The Healing Nature Trail: Forest Bathing for Recovery and Awakening Book by Tamarack Song
Your Guide to Forest Bathing: Experience the Healing Power of Nature Book by M. Amos Clifford
Forest Therapy: Seasonal Ways to Embrace Nature for a Happier You Book by Sarah Iven
Other useful resources for Tree Babies classes
Calm app-This is a great way to tie up what you do in sessions with the home practice for parents
Headspace app-This app offers a grounded way to add mindfulness to your day
Insight Timer-A huge range of mediations, mindfulness exercises and much more
To join us as a Tree Babies Guide and join the Tree Babies Revolution, click here
---
About Blossom & Berry
Blossom & Berry offers expert training, support & resources on baby massage, yoga and parent and baby wellness for professionals & parents across the world.
Blossom & Berry training is designed to give you everything you need to succeed. It gives you a complete teaching practice and mentorship program in a box.
Our training is the most comprehensive teacher training and business package on the market with no restrictions on what you can do and no ongoing licence fees ever.
"I would love to invite you to join my network of over 1000 teachers across the world sharing the benefits of nurturing touch and connection with parents and babies." Gayle Berry – Master trainer and international expert on baby massage and yoga, founder of Blossom & Berry.
Your success is our success and having a transformational and nurturing experience is key.