Blog written by Rachel Rose Burgess
It was with great pleasure that I was able to visit Copenhagen as my 'mini moon' after getting married recently. Why Copenhagen? Hygge of course!
Having written the Hygge for Practitioner course in recent months I felt it only appropriate to visit for myself and really immerse myself in the culture. Copenhagen did not disappoint, it is truly a unique and vibrant city. A bustling city with an element of calm and hygge about it too. I have wondered about this city for many years, always having an interest in hygge from my early childcare years. 
The ten principles of hygge (by Meik Wiking) were apparent and available throughout each day of my visit. Atmosphere; this city had such a calm atmosphere about it and yes, you can hear the traffic and noises of a regular city but it was also quiet and obvious that atmosphere was important to the people there, who were often seeking time outside a cafe or sitting people watching by the water. Other principles that were shining through were togetherness, pleasure and presence; groups of people relaxing together, walking, eating and playing and just enjoying each other's company. This is something which we could instil in our own daily lives outside Denmark and at home, they are a fine example of often being the happiest country in Europe.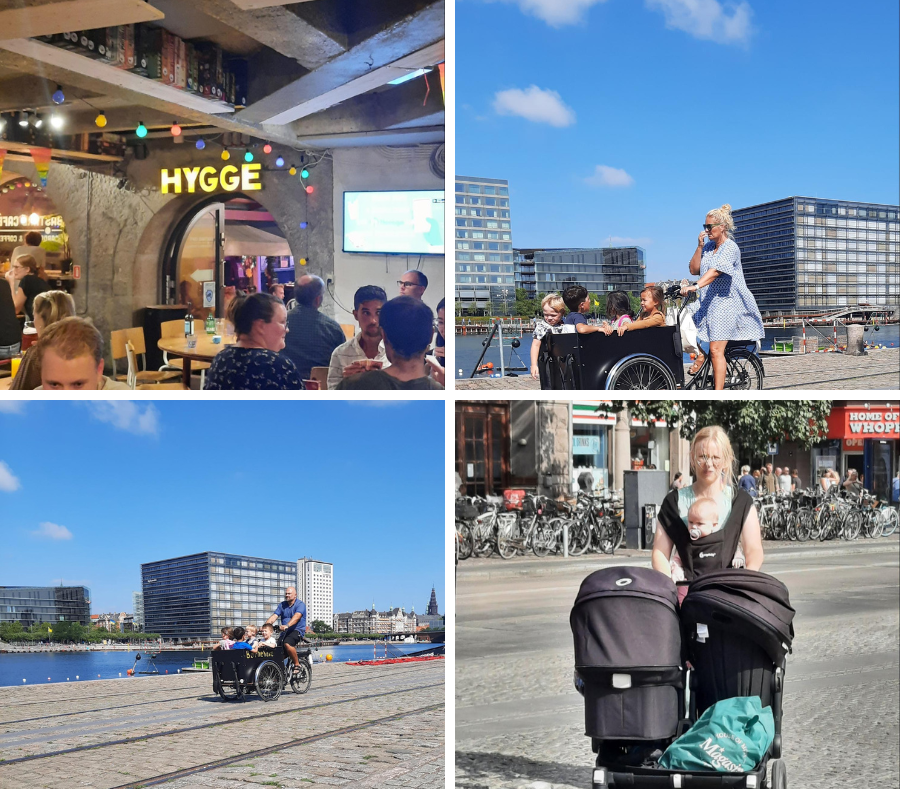 Intrigue caught me in observation, especially observing parents and the Danish way of Parenting. There was no lack of children that's for sure and every day there were nursery and school children out on walks, enjoying play areas and generally exploring alongside their teachers. Copenhagen is one very family-friendly city with swim zones along the water every few kilometres, these swim zones have clean water, sectioned safe areas and are busy with families and children of all ages, the teenagers were loving jumping off the wooden structures designed just for these areas. Every baby I saw was close to one parent either in a sling or in the arms of Mum or Dad and it was mostly Dad's you would see through the day pushing prams, cycling with babies in their cosy boxes attached to the front of bikes and sitting in a quiet place in nature our outside a cafe with a content sleeping baby. At the beach, they had family zones where families could sit, get a shower, a space to get changed and it was located where there was always a low tide. On the day we visited it was busy with frolicking children splashing in the water and babes in arms close to their parents. There were various 'play zones' with tyres, wooden structures and a general sense of nature within them, no bright primary coloured swings and slides but real structures made of wood, pipes, ropes and everything to ignite a real curiosity in children's play. I can wholeheartedly understand why so many parents choose to raise their children in Denmark, it was made for children, they are happy, content and enjoying life.
Work in Denmark is also a real eye-opener, I noticed that it would be 2.30pm-3pm in the afternoon and this would feel like what we would call 'rush hour' but here, it was cafes getting busy, the pubs opening up, the green parks filling and lots (I mean lots) of bikes through the city as people finished for the day to either hygge before school pick up or to hygge for the rest of the day into the evening. Offices were filled with plants, couches, neutral walls and simple elegant artwork and a real sense that people enjoyed their work and I heard many a conversation about flexible working, working out of the office (and in a cosy place full of cushions and fresh juices/smoothies) and often many people working while cycling, yip, on their hands-free headphones having meetings while cycling through the city. One place was a board game cafe/pub….and I can tell you it was the best night I had in a long time. The whole place was filled with board games, and people finishing work, families and teenagers who came along to spend their whole evening eating from the delicious menu, enjoying various drinks from smoothies, warming drinks to something a little bit stronger and setting up their table with a board game to enjoy their hygge evening. It was an amazing place, with many still in their work attire. 
Visting Copenhagen has really ignited my passion for hygge and how it can really make a change in your life, mindset, perspective and general mental health. We can all take a leaf out of Denmark's book and it is such a happy and content place to be. I will be back, as soon as I can. 
The concept and culture of hygge is a great way to slow down your life, your business and how you can bring this out into the world of parent & baby connection and love.
You can sign up to my Hygge Practitioner for Pregnancy, Parents & Babies course here to learn how you can bring hygge into your life, business and pregnancy, parent & baby groups.