Tree Babies in lockdown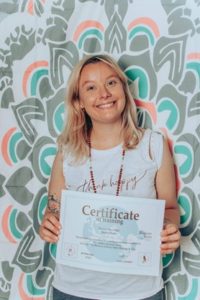 Back in October 2020, I completed my Tree Babies instructor training with Blossom & Berry and it has been amazing to be able to offer Tree Babies classes to parents and babies in my area and it has been really well received.
When I first started, the lockdown was in full swing and I wasn't able to hold my normal indoor classes so being able to offer outdoor Tree Babies sessions was amazing. I found that many new mums had missed out on a lot of the normal experiences they would have had had the pandemic not surfaced and they were feeling isolated and struggled with being a new mum without that normal support structure of friends, family and support groups. Tree Babies was a great way of combating those issues and being able to create a community of new mums was a much-needed lifeline for many including myself.
Mindfulness and Connection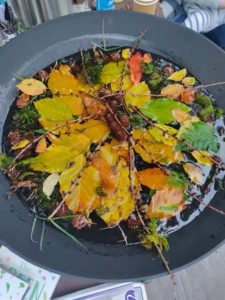 The powerful effects of being out in nature and practising mindfulness and connection were evident as soon as I started the Tree Babies instructor course and became even more apparent as I started my first classes back in October. The simplicity of the activities made the sessions accessible to everyone and it was easy and simple to guide parents into a space and hold space for them to connect with themselves and nature. This simplicity impacted parents' perceptions of being in nature positively, slowing them down and improving theirs and babies wellbeing in a gentle, non-scary way.
Throughout the months since, I have been able to expand the activities and let creativity guide me to new ideas that parents have really enjoyed taking part in. Some of these activities include:
Water Mandalas

Flower Printing

Mindful Meditations

Collaborative Nature Art
Forest Bathing
Forest bathing is a strong foundation for each week's sessions where we walk or sit in the forest and use our 5 senses to feel present and grounded and to make room for the healing practice of mindfulness in nature. Each week we choose a different sense and ask parents to think about what they see, how it feels, it's taste, the smells and the sounds they can perceive around them.
Forest bathing has been shown to reduce stress, anger, anxiety, depression and sleeplessness for those that practise it and in fact, after just 15 minutes of forest bathing blood pressure drops, stress levels are reduced and concentration and mental clarity improve. This is one of the main reasons that we practice forest bathing for at least 15 minutes each week so that the full effects of nature can be felt before returning to their normal lives.
How Tree Babies has helped parents
Since starting Tree Babies sessions I have had nothing but positive feedback from parents. They have loved the sense of connection with other mums and babies and being able to take some of the things they've learnt home with them has helped them through difficult and stressful times. 
Here's what some parents had to say about Tree Babies sessions:
"I feel so lucky to have found Becky Rose and her classes following the birth of my 2nd wee boy in August this year.  It has been such a challenging time to be pregnant and have a baby, and Becky's classes have been absolutely amazing! I have been attending Tree Babies and Tree Toddlers since October. Becky is warm and friendly as well as being an excellent teacher, and really goes the extra mile for all of us in the classes. The classes have been fab and different each week, and there is so much time and thought put into every detail.  I am looking forward to starting Baby Yoga in January and would recommend sessions to everyone.  It has also been a great way to meet other parents and little ones and I wish I had found the classes when my first was born! Xx" – Louise
"I recently completed one block of tree babies with Becky and was so impressed. Becky is so welcoming and thoughtful, the activities really make you stop and think and meeting other like minded mums has been brilliant. I can't thank you enough." – Anna
My own experience of being a Tree Babies guide
For me, being able to get outdoors and connect with people was a lifeline I didn't know I needed. At the end of the 1st lockdown, when I completed my training, I didn't realise how much I missed being able to offer classes and the inability to reach out to my clients affected my own mental health. So being able to get back to nature and practice mindfulness and connection alongside parents was an experience that brought me back from the edge of depression and loneliness. Being a Tree Babies guide and being able to build a community of support has made me realise the importance of being mindful and the connection we need with others. Through this, I have offered more Tree Babies sessions, especially through this 2nd lockdown and been able to keep a line of support to those who need it most.
Guest blog by Becky Rose of Becky Rose Yoga and Mindfulness – you can follow her on Facebook here and Instagram here
If you would like to train with us click here.

---
Tree Babies-Our essential resources list for teaching parents and babies in nature
I thought I would share some of my favourite resources from our Tree Babies Guide course to inspire you.
Reading list
Our Tree Babies course covers everything you need to know but I always suggest cultivating a daily practice of learning.
You can order some of these books for deeper reading from Red Lion Books to support an amazing family-run independent bookshop. Send an email copying this list or any of the titles and Jo at Red Lion will send them out to you, [email protected]
Connection
Continuum Concept-Jean Liedoff
Vital Touch-Sharon Heller
Mindfulness
Peace Is Every Step: The Path of Mindfulness in Everyday Life by Thich Nhat Hanh
The Headspace Guide to Meditation and Mindfulness: How Mindfulness Can Change Your Life in
Ten Minutes a Day by Andy Puddicombe
Four Agreements-Don Miguel Ruiz
Untethered Soul-Michael Alan Singer
The New Earth-Eckart Tolle
Forest bathing and nature practice
The Healing Nature Trail: Forest Bathing for Recovery and Awakening Book by Tamarack Song
Your Guide to Forest Bathing: Experience the Healing Power of Nature Book by M. Amos Clifford
Forest Therapy: Seasonal Ways to Embrace Nature for a Happier You Book by Sarah Iven
Other useful resources for Tree Babies classes
Calm app-This is a great way to tie up what you do in sessions with the home practice for parents
Headspace app-This app offers a grounded way to add mindfulness to your day
Insight Timer-A huge range of mediations, mindfulness exercises and much more
To join us as a Tree Babies Guide and join the Tree Babies Revolution, click here
---
About Blossom & Berry
Blossom & Berry offers expert training, support & resources on baby massage, yoga and parent and baby wellness for professionals & parents across the world.
Blossom & Berry training is designed to give you everything you need to succeed. It gives you a complete teaching practice and mentorship program in a box.
Our training is the most comprehensive teacher training and business package on the market with no restrictions on what you can do and no ongoing licence fees ever.
"I would love to invite you to join my network of over 1000 teachers across the world sharing the benefits of nurturing touch and connection with parents and babies." Gayle Berry – Master trainer and international expert on baby massage and yoga, founder of Blossom & Berry.
Your success is our success and having a transformational and nurturing experience is key.